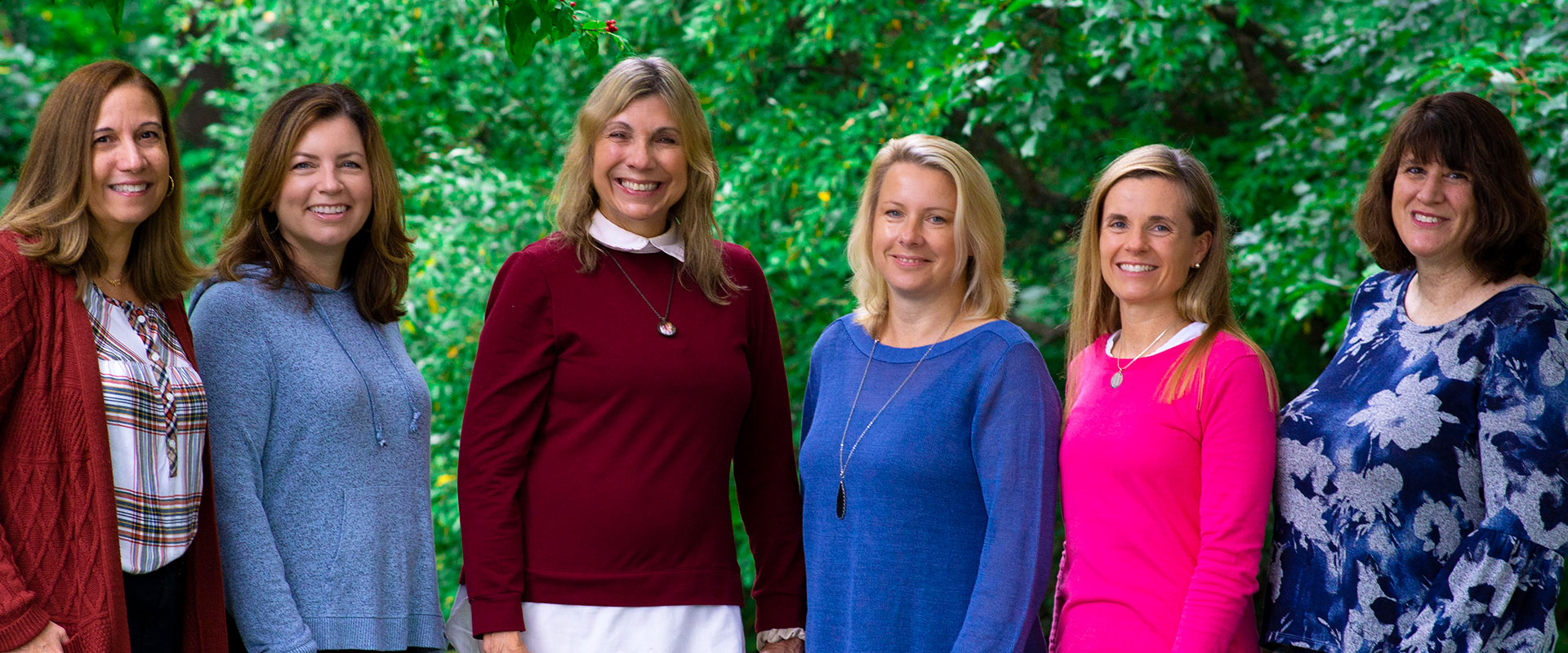 Janet Swenson is the director of First Step Preschool.
She has been with First Step since 2009, and previously she worked with different age groups.  Janet has a BA in Computer Science as well as her Child Development Associate Credential (CDA) a nationally recognized credential in the field of Early Childhood Education. She lives in Norwalk with husband Scott and their two children Rachael and Erik.  Janet attends Hope Church and has been very active in the children's ministry program. She also enjoys spending time traveling with her family, reading, scrapbooking and various other crafts.
Mary Hoermann, is the head 2's teacher at First Step.  She joined the first step family in 2014. Mary graduated from Southern Connecticut State University with a B.S. in Business Administration and then did graduate course work in counseling.
Mary grew up in Norwalk, CT.  After college she lived in Westport for 10 years before moving to Wilton in 2005 when she married her husband Joe. They have a daughter Grace (2007) who attends Wilton public schools. She also has 3 step sons, Joe (1988) and George (1990) who live in Boston and Eddie (1996) who lives at home with them. They have a black lab named Danielle and Guinea Pig named Gerta.
Mary loves being a mom and because of this, she slowly started getting involved with various activities in town. She was on the MOPS (Mothers of Preschoolers) steering Committee at Hope Church for 2 years. Mary has also been a faithful volunteer for Kids Camp at Hope Church since 2011. She has also taught Sunday school since 2011, been a Girl Scout leader since 2011, was a Girls Scout Service Unit Organizer for 2 years and both President and Treasurer of the Wilton Mom's Club as well as many other volunteer/service positions.
Mary's relationship with First Step Preschool started in 2009 when her daughter Grace attended the 2's class. She fell in love with the school and its small nurturing environment. Mary considers herself blessed to be a part of the staff at First Step.
Marisa joined First Step Preschool in September 2021 as the 2s assistant teacher, but she was a teacher for many years in a variety of grade levels (pre-K through 12th grade) and subject areas (secondary English, ESL, Literature of Musical Theatre, Creative Writing, and Elementary Social Studies, Math, Science, Reading/English, Religion). Marisa is a graduate of St. John Fisher College in Rochester, NY, with a B.A. in English/Writing Concentration. She met her husband, Nick, in college, then moved to TX, PA, NY, back to TX, and now CT, while raising three wonderful children, Jack, Lauren, and Jamie. Although they have enjoyed the experiences of living in different states, they are happy to be back near extended family and long-time friends.
Marisa is a huge theatre arts fan, serving on the Wilton High School Theater Arts Association board, as well as the Music Theatre of CT board. Her other hobbies include travel, exercise, movies, music concerts (she is the biggest Springsteen fan!), baseball, reading, summers on Cape Cod, and spending time with her family.
Marisa is so excited to be back in the classroom and part of the First Step family!
Vita Silina joined the staff at First Step in Fall of 2017 as a floater.
She is from Latvia and has been living in the United States since 2002.  Vita has her Bachelor of Science degree in Nursing from Cēsīs College of Nursing.  Vita has a lot of experience, working with children.  She has been a nanny, she is the mother of three children and, she is also a Sunday School teacher, Kids Camp Leader and Midweek Program volunteer all at Hope Church.
Vita is married and has three children. Her and her family have been living in Wilton since 2004.
In her free time Vita enjoys hiking, gardening and cooking.  Vita feels that children are gifts from God and believes that every child needs a different approach in learning and exploring the world around them. She feels blessed and also excited to be a part of the First Step.
Kathy started at First step in 2009.
"I love to teach first and foremost because I honestly love children, especially our 3 year olds. I also love that I can be my playful and silly self while educating them in a way that they can enjoy learning. It gives me pleasure to see them grow and respond with eyes wide open and to see them 'just get it' when they learn something new is amazing!"
Kathy lives in Stamford with her husband Alex. She has 3 children, AJ, Kelly and Steven and also 1 granddaughter, Lilah. Born in 2016 and another one on the way in late November 2017, a boy! She also has 2 "furbabies", Ryder and Sawyer, Mini Australian Shepherds.
Kathy has a passion for music and loves to sing. Disney World is her favorite place to visit.  She also loves all Disney movies! She enjoys taking care of their swan family, Sammy and Serena that live on their pond. In Kathy's free time she loves taking pictures, cooking, baking, and spending time with her family. She also enjoys getting away to her 2nd home in Vt.
Heather Dobson joined First Step in September 2017.
She previously taught Kindergarten for seven years at the Stanwich School in Greenwich.  Heather has a B.S. degree from the University of Connecticut in Communication Sciences and earned her Master's degree from Manhattanville College in Elementary and Special Education. She lives in Wilton with her husband and 3 children.  When not teaching, you can find Heather on the soccer, lacrosse and basketball sidelines cheering on her children and their teammates, volunteering at the schools, and exercising.
Bengchoo Erickson joined First Step as an office assistant. As a strong follower of Christ and an advocate for education, she counts it a blessing to work with a team of people who are dedicated to the development of children as an expression of their Christian faith.
Bengchoo earned her Bachelor's Degree in Material Science and Engineering and has accumulated more than a decade of work experience in her field. She is married with two sons and her family  moved from Singapore to Tokyo and now resides in Connecticut since 2004.
Bengchoo and her family attend Hope Church and they have been actively involved in various ministries in church. She and her husband are part of a team teaching Sunday school to the 4th and 5th graders. When not working, Bengchoo enjoys walking with friends, playing Pickleball, learning new things and spending time with family and friends.
Director - Janet Swenson
Office Assistant - Bengchoo Ericson
240 Wolfpit Road
WIlton, CT 06897
Phone: 203-563-0545
Email: firststep@hopechurchct.org